How Can a Wheelchair Accessible Car or Handicap Van Change Your Life?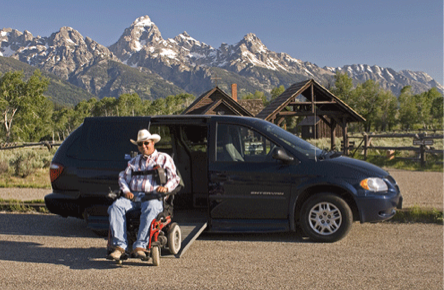 With adaptive technologies emerging each year, mobility vehicles have become more powerful than ever before. These handicap solutions have changed the lives of countless persons with disabilities and helped alleviate some of the everyday challenges of just as many caregivers. If you've been considering the addition of a wheelchair accessible vehicle to your family, here are three ways in which owning a handicap van or car can empower you and transform your entire life.
Safety
Whether you're a person with a disability, a dedicated caregiver or an able-bodied family member, safety is a universal concern and one of the main benefits of owning a vehicle designed for adaptive use. Besides power wheelchair lifts and transfer seating options, these vehicles are built to be used by persons with limited mobility, meaning they have been modified to be a secure transportation solution. Additionally, the high-quality equipment used in handicap van conversions reduces the risk of injury while getting in and out of the vehicle, as well as transferring from a wheelchair to a built-in seat. With wheelchair ties, in-floor ramps and alternative restraint options, a wheelchair accessible van can provide the added safety you need to feel confident on the road.
Freedom
For many people, owning a mobility vehicle means having the freedom to be able to go anywhere, any time. Often, persons with physical disabilities are able to operate a handicap accessible car or van independently, without the need to have a caregiver help them in and out of the vehicle. Thanks to lifts, ramps and transfer seats, as well as hand controls and other conversion options, wheelchair vans have helped countless individuals regain their freedom after an injury or due to a medical condition, transforming their lives for the better.
Accessibility and Ease of Use
Automatic ramp systems, in-floor ramp technology, low-effort steering and many other adaptive conversion possibilities make operating mobility vehicles simple and convenient. This accessibility not only makes these vehicles easy to grow accustomed to, it also prevents injuries that can occur if the proper equipment is not utilized. Practicality and usability are two huge benefits of owning a WAV – wheelchair accessible vehicle, as they make getting from point A to point B a seamless and enjoyable process.
Ready to begin your search for the perfect wheelchair accessible vehicle? Contact your local NMEDA dealer today to discuss the purchasing process and the best options for your needs.
The National Mobility Equipment Dealers Association (NMEDA) is an advocate for mobility and accessibility for drivers with disabilities. If you need help with converting or buying a handicap accessible car, truck or van, please consider one of our mobility equipment dealers.
https://nmeda.org/wp-content/uploads/2014/12/How-Can-a-Wheelchair-Accessible-Car-or-Van-Change-Your-Life_.png
290
444
nmeda
https://nmeda.org/wp-content/uploads/2020/06/nmeda-logo.png
nmeda
2014-12-11 18:07:35
2020-10-13 15:49:48
How Can a Wheelchair Accessible Car or Handicap Van Change Your Life?