Avoid Airport Pat-Downs: New TSA Helpline for People with Disabilities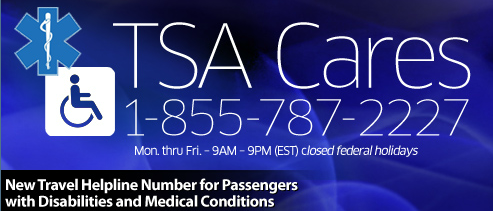 You might want to drive your accessible vehicle rather than fly. After recent news, the Transportation Security Administration (TSA) has issued more intensive search procedures—like pat-downs. Some of the more likely people to get pat-downs are people with disabilities.
TSA rules state that anyone unable to be properly screened via its Advanced Imaging Technology methods must undergo a pat-down. That includes those who:
Cannot stand with their arms raised at shoulder level for the 5-7 second duration of the scan
Cannot walk without the aid of a cane, crutch, walker, etc.
Use service animals
Carry or use oxygen
Accompany the above individuals
You may request a private area for your personal screening. The TSA is bowing to pressure for more respectful treatment of people with disabilities by launching TSA Cares, a helpline number to assist travelers with disabilities and medical conditions. Call 1-855-787-2227 prior to traveling with questions about screening policies, procedures and what to expect at the security checkpoint.
The hotline is specifically for passengers with disabilities or medical conditions or their loved ones who want to prepare for the screening process before flying.
Helpline hours are Monday through Friday 9 am to 9 pm EST, excluding federal holidays. Travelers who are deaf or hard of hearing can use a relay service to contact TSA Cares or e-mail TSA-ContactCenter@dhs.gov.
All travelers can contact TSA using Talk To TSA, a web-based tool that allows passengers to reach out to an airport Customer Service Manager directly; or the TSA Contact Center at 1-866-289-9673; or visit TSA-ContactCenter@dhs.gov, where travelers can ask questions, provide suggestions and file complaints.
All travelers may ask to speak to a TSA supervisor if questions about screening procedures arise while at the security checkpoint.
The National Mobility Equipment Dealers Association (NMEDA) is an advocate for mobility and accessibility for drivers with disabilities. If you need help with converting or buying a handicap accessible vehicle, please consider one of our mobility equipment dealers.
https://nmeda.org/wp-content/uploads/2011/12/tsa-for-peope-with-disabilities1.png
211
493
nmeda
https://nmeda.org/wp-content/uploads/2020/06/nmeda-logo.png
nmeda
2011-12-30 17:45:10
2020-10-13 07:18:35
Avoid Airport Pat-Downs: New TSA Helpline for People with Disabilities