All About Lifts: How to Find the Best Option for You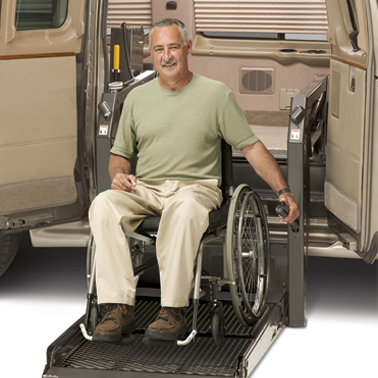 Driving around town in a wheelchair accessible vehicle custom-suited to your unique needs might seem a prize too steep to attain, but with more and more technologies and products entering the mobility equipment marketplace each day, your perfect ride might be closer than you could imagine. A NMEDA dealer can make the process run smoothly and ensure your every need is fully met, and a great place to start when designing the car of your dreams is with a lift to ensure easy entry and exit.
What are wheelchairs lifts and what types of lifts are available?
Lifts provide an easy way for people with wheelchairs or scooters to enter and exit an accessible vehicle. While there are many options and manufacturers providing lift options to drivers with disabilities, there are two basic types of wheelchair lifts—Platform lifts and the Rotary (or Swing) lifts. Each of these is available in a variety of models that include hydraulic, electrical, mechanical, gravity and those that combine hydraulic and electrical.
What are the differences between platform and rotary lifts?
Platform lifts require two doors or a sliding door on the side of a van, and are seamlessly stored, as the lift is folded while the van is being driven. There are two different platforms both a solid and a fold in half platform. The fold in half platform folds to give a better accessibility to doors, and some are mounted on a single post. There are also automatic and semi-automatic lifts.
Unlike platform lifts, rotary lifts (or "swing lifts") never fold. These lifts "swing" inside, outside and up and down. Some individuals like the rotary life because of the parking convenience, as less room is needed to enter or exit the van. The lift platform rests on the van floor while not in use.
How do I purchase a wheelchair lift?
Determining what type of lift you need to safely enter and exit your vehicle is entirely based on your mobility needs. Consulting a mobility dealer can help you decide what kind of wheelchair lift is right for you, and your family, so you can ensure your time on the road is as comfortable as possible.
Once you've identified your specific needs, it's vital to consult with a mobility professional at your local NMEDA dealer. These Quality Assurance Program accredited professionals can help you get behind the wheel and out on the open road in a mobility equipment equipped van or car custom built for your unique needs.
https://nmeda.org/wp-content/uploads/2015/02/wheelchair-lifts.jpg
378
378
nmeda
https://nmeda.org/wp-content/uploads/2020/06/nmeda-logo.png
nmeda
2021-10-10 16:50:40
2021-10-12 08:51:39
All About Lifts: How to Find the Best Option for You