Wheelchair Accessible Vehicles now in Pickup Trucks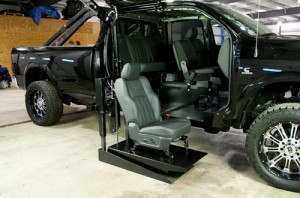 If you've always dreamed of getting behind the wheel of a truck, there has never been a better time to do so.  Wheelchair accessible vehicles now come in pickup trucks that can give you the independence you desire while also allowing you to grow or maintain your adventurous lifestyle. With the ability to tow and transport boats, campers and other gear, a truck can not only be an exciting addition to your life, but can also multitask as your family's primary mode of transportation. Here are a few things to consider if you are thinking about purchasing an accessible pickup truck.
Pickup modifications vary greatly, from additions that require little to no alteration to your vehicle's structure to full conversions. A popular option is the Bruno Out-Rider, which attaches to your wheelchair and swiftly lifts and transfers it to the bed of your pickup with the push of a button. This type of conversion does require the driver to have the ability to transfer from their wheelchair to the specially designed driver's seat, which is something to take into consideration when making your choice.
Another kind of modification, produced by MobilitySVM and All-Terrain Conversions, can be done to trucks in which the entire driver's (or passenger's) side door is altered to move outward from the vehicle, rather than swing open. A wheelchair lift is installed on the inside of the door frame into which a driver or passenger can easily back into and be lifted and positioned in their desired position in the vehicle cabin. The entire process takes less than one minute! This type of conversion may be ideal for those who are unable to transfer themselves from their wheelchairs yet would still like to gain independence and do so in a convenient way.
Purchasing an accessible vehicle is a big decision and should be carefully researched. Be sure to pay your local NMEDA dealer a visit in order to fully assess your needs and determine if a wheelchair accessible truck is the best option for you.
The National Mobility Equipment Dealers Association (NMEDA) is an advocate for mobility and accessibility for drivers with disabilities. If you need help with converting or buying a handicap accessible car, truck or van, please consider one of our mobility equipment dealers.
https://nmeda.org/wp-content/uploads/2013/11/Blog2-300x198-1.jpg
198
300
nmeda
https://nmeda.org/wp-content/uploads/2020/06/nmeda-logo.png
nmeda
2013-11-11 18:21:08
2020-11-20 09:37:21
Wheelchair Accessible Vehicles now in Pickup Trucks