The First Steps to Getting on the Road in a Wheelchair Accessible Vehicle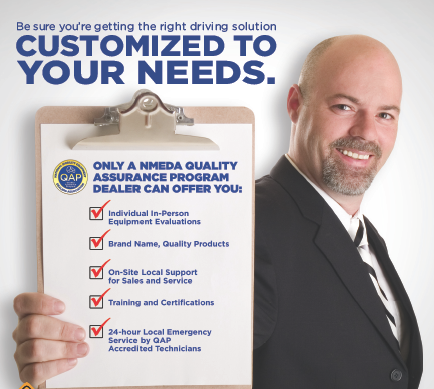 Purchasing or financing a wheelchair accessible vehicle takes time, money and a little bit of research. Because of the many available options when it comes to handicap vehicles, and the investment they require, knowing where to start your search is crucial and can shape the entire process. NMEDA member dealers work with individuals with disabilities, as well as their caregivers and families, to ensure we steer you in the direction of the perfect vehicle for you. Here are a few useful tips and resources:
Go to the Pros
By going straight to a NMEDA members dealership, you'll be sure that you're getting the best possible care and attention, as well as professional service. All dealerships are required to adhere to strict quality standards under our Quality Assurance Program and, will provide you with the best solutions for your specific needs. Starting your search at a NMEDA dealer near you means you are sure you get behind the wheel of a handicap vehicle that's right for you.
Establish Your Needs
Who will be the vehicle's primary driver? Will you be driving from a wheelchair, transferring into the vehicle's seat or transporting a loved one with a disability? Will you need to enter and exit the vehicle on your own or will help be nearby? Are you looking for a truck, car, minivan or a SUV? The answers to these questions can help determine what kind of adapted vehicle and equipment you need before diving into inventory listings.
Know Your Budget
We know that one of the most difficult parts of purchasing a new vehicle is making sure the cost is within your means. When it comes to finding a wheelchair accessible or adaptive vehicle, there are more options than you might realize. There are several state and government organizations in place to help get you the car you need. This is a topic we've covered in previous blog posts and is a crucial part of the preliminary purchasing stages.
A wheelchair accessible vehicle can transform your life and give you a chance to get on the road to independence. Keep up with more news and tips on getting your own WAV on our Facebook, Twitter and Pinterest.
The National Mobility Equipment Dealers Association (NMEDA) is an advocate for mobility and accessibility for drivers with disabilities. If you need help with converting or buying a handicap accessible car, truck or van, please consider one of our mobility equipment dealers.
https://nmeda.org/wp-content/uploads/2014/11/First-Steps.png
389
434
nmeda
https://nmeda.org/wp-content/uploads/2020/06/nmeda-logo.png
nmeda
2014-11-20 04:22:12
2020-10-13 15:36:39
The First Steps to Getting on the Road in a Wheelchair Accessible Vehicle