Ride-Sharing Service Gets a Wheelchair Accessible Makeover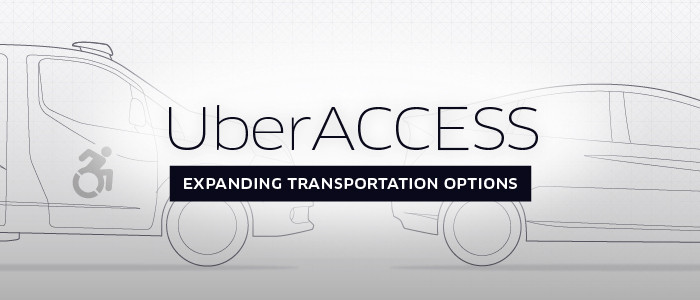 In recent years, ride-sharing services have become all the craze. If you haven't heard of Uber by now, you may want to look into the phenomenon. It is an app-based ride-sharing (taxi-like) service that has taken the world by storm.
Currently operating in 54 countries, Uber gives passengers a completely different experience than a traditional taxi service. Using the Uber app on your iPhone, Android, or Windows phone you can request a ride with the driver's name, car make, license plate, and an estimated time of their arrival. Those who have passed a DMV and background check are eligible to become a driver.
 With all its popularity, there have been a number of complaints about Uber's lack of assistance for persons with disabilities or adaptive mobility needs until now. Uber has recently partnered with Open Doors Organization, a non-profit that works to improve the lives of those who are disabled. Together, they launched UberASSIST. They've taken uberX drivers and armed them with the necessary knowledge on accessibility and safety needs for those who need assistance. UberASSIST is now operating in cities like Houston, Philadelphia, and Chicago, and the companies are currently working on expanding.
 Wheelchair Accessible Transportation
In addition to UberASSIST, Uber is launching UberACCESS. Wheelchair Accessible Vans that carry the name "UberWav" will now stand amongst uberX, TAXI, BLACK, SUV, and LUX. Uber is working to enhance transit. Accessible ramps and trained drivers will be available upon request. UberWav is currently only available in New York City's outer boroughs, but Uber plans to broaden the service. The adjustment in Uber's services may have been a reactive response rather than proactive, but the company is taking the necessary steps to positively respond to customer demands. If you are interested in renting and purchasing a wheelchair accessible vehicle, contact your local NMEDA QAP dealer.
The National Mobility Equipment Dealers Association (NMEDA) is an advocate for mobility and accessibility for drivers with disabilities. If you need help with converting or buying a handicap accessible car, truck or van, please consider one of our mobility equipment dealers.
https://nmeda.org/wp-content/uploads/2015/04/wheelchair-accessible-transportation1.jpg
0
0
nmeda
https://nmeda.org/wp-content/uploads/2020/06/nmeda-logo.png
nmeda
2015-04-22 14:42:34
2020-10-13 07:19:30
Ride-Sharing Service Gets a Wheelchair Accessible Makeover