Ramping up Wheelchair Access across Canada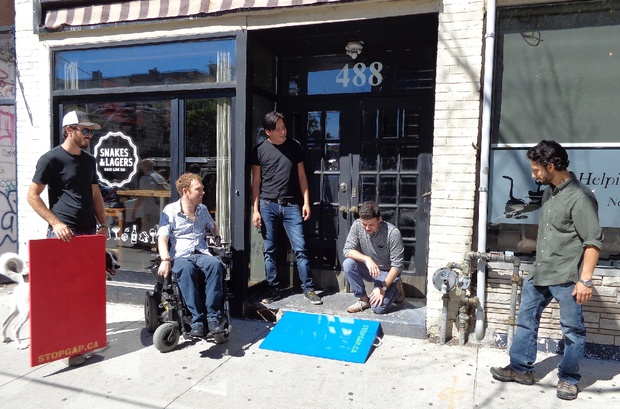 Universal accessibility and ensuring persons with disabilities are able to freely and comfortably navigate throughout a space is a major objective for the future of Canadian businesses. Although businesses in Ontario legally have until 2025 to implement the mandated provisions for built-environment accessibility, a non-profit group has decided to skip the wait and take matters into their own hands.
Temporary Wheelchair Ramps
Stopgaps Community Ramp Project aims to create an instant solution to the problem of accessibility to retail establishments for people with disabilities. Building simple plywood ramps with rope handles that are painted in bright, vibrant colors, business owners can easily place a temporary ramp outside a stepped entrance for access during the day and then remove it when the establishment is closed at night. Built with donated materials by dedicated volunteers, these colorful ramps not only present a solution to accessibility barriers, they're also conducive to getting a conversation about mobility awareness started. To date, volunteers have built over 400 ramps in Toronto and other cities using donated materials and following the guidelines posted on StopGap's website.
Accessibility and Design
Critics complain that the innovative approach only addresses part of the problem. Getting to the retail establishment is one thing, but there are other handicap accessibility issues on the interior like narrow aisles, doors that open outwards, spaces that aren't configured properly and shelves out of reach. StopGap co-founder Luke Anderson acknowledges that the ramps aren't a complete fix. "They certainly help with one small issue related to the built environment, but what they are doing is creating conversation and getting people thinking about permanent solutions to this huge design issue."
Community Ramp Project
The Community Ramp Project has not only made Canadian businesses more accessible for those with mobility limitations, the ramps provided by this effort make it easy for parents pushing strollers, couriers using dollies and many other patrons to enter and exit establishments. To learn more about this amazing community effort or to get involved in your own community, visit StopGap's website.
The National Mobility Equipment Dealers Association (NMEDA) is an advocate for mobility and accessibility for drivers with disabilities. If you need help with converting or buying a handicap accessible car, truck or van, please consider one of our mobility equipment dealers.
https://nmeda.org/wp-content/uploads/2015/01/Ramping-up-Wheelchair-Access.jpg
409
620
nmeda
https://nmeda.org/wp-content/uploads/2020/06/nmeda-logo.png
nmeda
2015-01-12 17:38:11
2020-10-13 15:36:39
Ramping up Wheelchair Access across Canada