What Does Your Vehicle Color Say About You?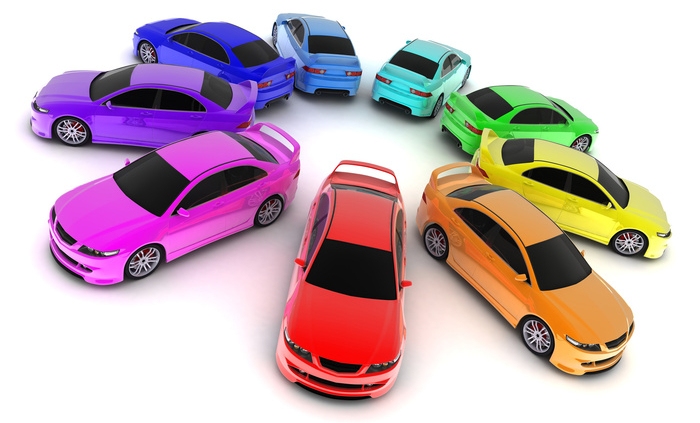 From the clothes we wear to the items we keep on our desks or bedside tables, our personalities are often reflected in the things we choose to surround ourselves with, including our vehicles. SUVs, minivans, sports cars and pickups each boast ideal characteristics for varying lifestyles, but it's not just the model of your vehicle that says a lot about you. The color you choose for your car or van's exterior can speak volumes about your personality, and let fellow drivers have a peek at what makes you you.
White
If you're driving a white vehicle, chances are you're projecting a fresh, young, modern face to the world.
Black
Black vehicles convey the sense of a strong person with a powerful drive and elegant taste.
Silver
The third most popular color for vehicles, it projects feelings of being modern and innovative.
Red
Indicates a high-energy individual, a go-getter projecting power, action and confidence.
Blue
Driving a blue vehicle might indicate that you are credible, dependable, trustworthy and confident.
Yellow
Projects a joyful, happy and upbeat personality.
Green
Dark green indicates balance, tradition and trustworthiness. Light green is more trendy, whimsical and lively.
Grey
Might be someone who looks at himself as modern, cool and futuristic.
What color is the vehicle you drive now or wish to drive? Do you think it accurately represents your personality? Let us know on Facebook, Twitter and Pinterest
The National Mobility Equipment Dealers Association (NMEDA) is an advocate for mobility and accessibility for drivers with disabilities. If you need help with converting or buying a handicap accessible car, truck or van, please consider one of our mobility equipment dealers.
https://nmeda.org/wp-content/uploads/2015/01/wheelchair-accessible-vehicle-colors.jpg
438
700
nmeda
https://nmeda.org/wp-content/uploads/2020/06/nmeda-logo.png
nmeda
2015-01-27 19:57:16
2020-10-13 15:36:38
What Does Your Vehicle Color Say About You?