Two New Mobile Apps to Get You Moving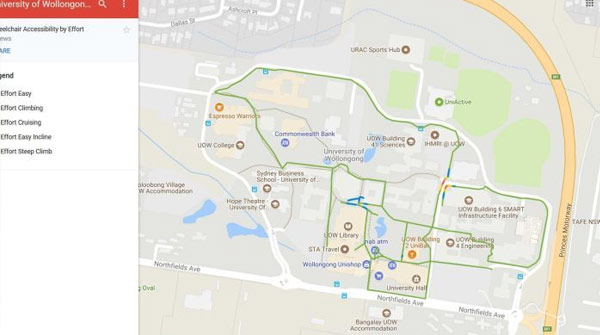 If you've ever gone on a local outing or vacation and attempted to navigate the streets in a wheelchair, you know how difficult it can be to conquer the terrain. From curbs to stairs, dips or sidewalks in disrepair, it's hard to predict what your barriers may be. For that reason, two mobile apps have been developed to show you the best routes and rides all over the globe.
Navability: This app's algorithms use the wheelchairs maneuverability, the environment (gradient, surface and obstacles) and the user's ability to calculate the best route through the landscape. Navability selects paths to keep your travel within your ideal zone, which aims to preserve your physical energy or power chair battery life. Whatever path you choose, you can continually assess throughout the day how your travel is impacting you. Every Navability map and/or path reflects your travel ability and effort as a distinct color. That way, you always know how a path will affect you so you can make an informed decision where you will travel.
SafeTrip: Think Uber, only more accessible. Taxi cabs and apps like Uber aren't equipped well enough to provide transportation with convenience and comfort for wheelchair users. SAFETRIP has bridged the gap with the world's first healthcare transportation app. A perfect option for local trips, health checkups and prescription pickups, the SAFETRIP app provides convenient means of transport for those that are experiencing medical issues both short-term and long term. The emphasis at SAFETRIP is on comfortable and specialized travel for those with disability needs, and these previously unmet needs are now fulfilled with specialized EMS vehicles, wheelchair accessible vehicles, vans and premium cars that are accessible to app users for prescription pickup and delivery. All users are free to choose from Premium Cars, Wheelchair Accessible Vehicles, Large Vans, and Ambulances for emergency purposes.
So whether you plan to travel near or far, for fun or necessity – and you need a better way to get around – there's an app for that.
This mobility update has been brought to you by NMEDA – the National Mobility Equipment Dealers Association. Need some information on how to make your vehicle wheelchair accessible or upgraded with the latest and most convenient features? Contact a NMEDA dealer in your local area. Your local NMEDA member is a mobility equipment and accessibility expert!
https://nmeda.org/wp-content/uploads/2018/01/feature-123118-b.jpg
335
600
nmeda
https://nmeda.org/wp-content/uploads/2020/06/nmeda-logo.png
nmeda
2018-01-19 08:00:42
2021-01-07 10:31:23
Two New Mobile Apps to Get You Moving