Troubleshooting Wheelchair and Scooter Problems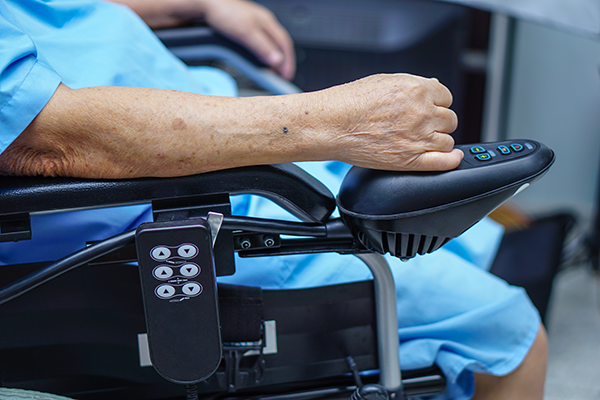 Equipment failure is never a good thing but for someone who is dependent on mobility equipment to get around it can be catastrophic. Here are a few troubleshooting examples to help you avoid a repair bill from a technician or mechanic.
Mobility Scooter – the most common issue with these types of vehicles is that the batteries are not up to a full charge. If you are experiencing any delay in speed when pressing the throttle to its maximum potential, the batteries need to be charged. However, this is also normal if going up an incline such as a hill or handicap ramp.
If the batteries are charged but it is not running…
Make sure the key is in the "On" position.
Check the placement of the freewheeling switch or lever is in the "Off" position. This will allow for the scooter to be pushed manually.
Your scooter may be in "Power-save" mode. If this mode is in operation, it is because your scooter has not moved for a few minutes and has tried to conserve the batteries while not in motion with the key in the ignition. To take the scooter out of "Power-save" mode, simply turn the key to "Off" for 30+ seconds.
A collapsible scooter not moving will probably be due to a lack of battery connection. Check the battery terminals for a complete connection before calling a technician for assistance.
https://www.scootaround.com/resources/troubleshooting-your-scooter –
Power Chair – If the power chair is not turning on, locate the Reset Circuit (white rubber button) under the seat and press it. Then check the main fuses of the chair. If it is the first time you're using the scooter, remember to connect the terminals to the battery before using.
If you have been using and it and it isn't turning on, connect a voltmeter and read the voltage from a negative terminal and a positive terminal with the respective leads. If there is no reading, check all the connections from the joystick to the batteries. If everything is connected, the batteries may need to be replaced.
https://www.drivetech.info/page211a.html
Scooter Chair Lift – the three most common problems with lifts malfunction involve the car battery, the battery and motor of the lift and the wiring harness. If you experience any problems in conjunction with general operation of the lift, check these places for a full battery charge, complete terminal connections and signs of wear and decay in the wiring harness.
If the lift is not folding to an up position, check the T-bar locations to make sure that there is nothing in the way of the mechanism.
Scooter lift manual – pg 20 https://www.pridemobility.com/pdf/owners_manuals/us_silverstar/ss_exterior_lift_om.pdf
Vehicle Mobility Equipment – If you have problems with mobility equipment on your vehicle, contact your local NMEDA Quality Assurance Program Dealer who provides 24 hour service to their customers.
The National Mobility Equipment Dealers Association (NMEDA) is an advocate for mobility and accessibility for drivers with disabilities. If you need help with converting or buying a wheelchair accessible car, truck or van, please consider one of our mobility equipment dealers. Find a dealer near you: www.nmeda.org/locatedealer
https://nmeda.org/wp-content/uploads/2021/03/scooter-hand-control-power.png
400
600
nmeda
https://nmeda.org/wp-content/uploads/2020/06/nmeda-logo.png
nmeda
2021-03-08 00:00:24
2021-03-09 14:18:38
Troubleshooting Wheelchair and Scooter Problems