Things to Consider When Buying a Wheelchair Accessible Vehicle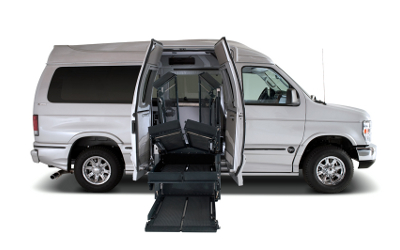 There are many things to consider and think about when buying a wheelchair accessible vehicle. The very first would be to determine what type of vehicle is the best for you. These days it seems just about anything can be converted to a handicap accessible vehicle, from pickup trucks to automobiles to SUV's to motorcycles. The most popular and practical is the minivan. These offer the most interior space, great gas mileage, fast in and out with a ramp for wheelchair passengers and easy transfer in and out of the driver seat for a wheelchair bound driver. There's also a good variety of manufacturers and models to choose from.
The advantages of a wheelchair accessible car are they look great, get better gas mileage than a minivan, are easy to park and if you only need hand controls, you can even drive a sports car.
If you opt to go the wheelchair accessible van route, an important decision you'll need to make to make is what type of entry the van will have. Rear entry vans and side entry vans are each more accessible under different scenarios. Side entry vans make it much easier for handicapped individuals to get into pilot or co-pilot seats. On the other hand, rear entry vans allow disabled drivers to park in regular spaces and are usually cheaper. This type of entrance also doesn't require any awkward maneuvering once loaded into the van.
Generally, your personal situation will dictate whether you require a specific entry.
And finally, a buyer must figure out how they will actually get themselves and their wheelchair into the van. Whether it's a simple ramp or industrial lift, each method has its own pros and cons.
Whether the wheelchair accessible vehicle being considered is an individual's first purchase or twenty-first, staying up to date on the latest technology and vehicle prices is essential to get a good deal and the best conversion for that person's particular lifestyle. A great place to start your search is to go to nmeda.flywheelsites.com and click on "dealer locator" to find a NMEDA dealer near you.
The National Mobility Equipment Dealers Association (NMEDA) is an advocate for mobility and accessibility for drivers with disabilities. If you need help with converting or buying a handicap accessible car, truck or van, please consider one of our mobility equipment dealers.
https://nmeda.org/wp-content/uploads/2011/11/full-size-handicap-van.jpg
250
400
nmeda
https://nmeda.org/wp-content/uploads/2020/06/nmeda-logo.png
nmeda
2012-07-31 00:00:50
2020-10-13 07:39:58
Things to Consider When Buying a Wheelchair Accessible Vehicle