Steering Aids for Different Mobility Needs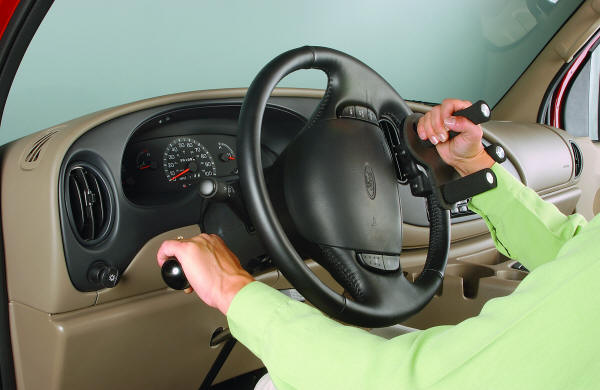 For drivers with limited upper body strength or dexterity, steering aids can help make piloting a vehicle both easier and safer. With a number of products available for the varying needs of drivers with disabilities, seniors and those with limited mobility, finding the right steering aid for you is simple, so you can get on the road and on to your next adventure quickly and securely.
Deep-Dish Steering Wheel – This device brings the steering wheel approximately four inches closer to the wheelchair driver and is normally used with a low-effort steering system. It improves wheelchair accessibility to the steering wheel and lessens the range of steering motion.
Foot Steering Control – This device transfers control of hand operated driving function to foot operation, made for drivers with limited upper body movement.
Horizontal Steering Column – This motorized, telescoping steering column allows for adjustment of steering in a variety of planes and positions. It adapts to the reach limitations of a driver, and can be positioned for right or left hand use.
Low Effort Steering – Drivers with limited upper body strength can safely operate a vehicle with this conversion, as it reduces the effort to steer the vehicle by approximately 40 percent.
One Hand Drive Control System – This steering system is designed for people with limited or no use of lower extremities but good strength in one arm and hand. Its main component is a knob through which steering, brake, and throttle are activated.
Steering Column Extension – This extension provides extra legroom and compensates for reduced range of movement. It also brings the steering wheel 2–6″ closer to the wheelchair driver.
Steering Spinners – Spinner knobs provide safe operation of the steering wheel by drivers who must steer using one hand. It allows them to remain in contact with the steering wheel at all times. They come in a variety of configurations including an amputee ring, knob, so called "quad-steering cuff," palm grip, tri-pin and v-grip.
Zero Effort Steering – This reduces the effort required to steer the vehicle by approximately 70 percent. A back-up steering system is usually recommended, and is available for vehicles with power steering.
When it comes to adaptive vehicle conversions, there is no "one size fits all" solution. All Quality Assurance Program dealers are available to help drivers with disabilities, or caregivers transporting a loved one with physical limitations.
The National Mobility Equipment Dealers Association (NMEDA) is an advocate for mobility and accessibility for drivers with disabilities. If you need help with converting or buying a handicap accessible car, truck or van, please consider one of our mobility equipment dealers. Find a dealer near you: www.nmeda.org/dealerlocator 
https://nmeda.org/wp-content/uploads/2015/05/Steering-and-Driving-Aids.jpg
0
0
nmeda
https://nmeda.org/wp-content/uploads/2020/06/nmeda-logo.png
nmeda
2021-03-17 00:02:42
2021-04-13 17:09:40
Steering Aids for Different Mobility Needs