Secure and Safe Mobility Solutions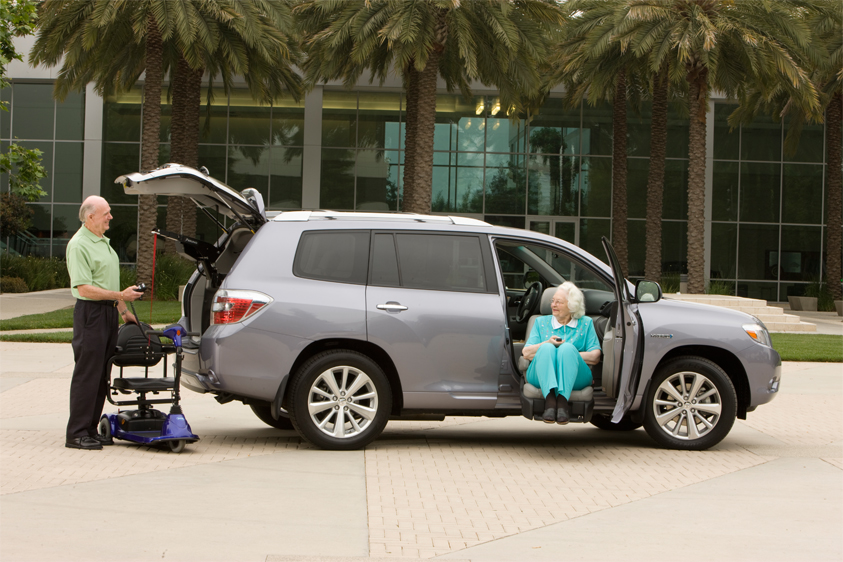 TAMPA, Florida (May 15, 2015) – Just because you use a wheelchair or a scooter, getting around town doesn't have to be a hassle. There are many systems available for people with mobility challenges that can make driving and riding in a vehicle a more pleasurable experience. National Mobility Equipment Dealers Association (NMEDA) members offer options for the most comfortable seats and safety restraints on the market.
One of the available options is a transfer or a turning seat that allows a person with a disability to move from their wheelchair and drive a vehicle from a specialized driver's seat. There are different types of transfer seats including a 6-way and 4-way power seat base. The 4-way power seat base is a motorized seat that moves forward and backward. Some 4-way systems have the capability of moving up and down. The 6-way seat base has all of the functions of the 4-way power seat base, plus motorized swivel movement capabilities. This is especially useful for individuals with limited upper body strength. If you are a passenger, there are also turning seats available that swivel outside the vehicle and down to make the transfer more easy.
It is also possible to drive from a wheelchair. There are seat bases that can be removed allowing space for a wheelchair. The removable seat bases can then be stored in the rear of the vehicle. For those who sit higher up in a wheelchair, wheel wells and automatic power pans can be installed to lower the wheelchair, and adjust their line of sight.
Automatic and manual seat restraints are available for securing a person or wheelchair in place in the vehicle. There are restraint options such as chest harnesses and lateral trunk supports to support those with diminished trunk and musculature balance. No matter what type of seat or safety restraint is being used, it is always imperative to use a seatbelt when in a moving vehicle. Do not depend on wheelchair locks alone for safety in the event of an accident. Do you use restraints or transfer seats to help you drive? Speak out and use the hashtag #NMAM2015 in celebration of National Mobility Awareness Month 2015.
About National Mobility Awareness Month
May is National Mobility Awareness Month and is the annual celebration that encourages seniors, veterans, caregivers and people with disabilities to enjoy active, mobile lifestyles. Founded in 1989 as a not-for-profit trade association, the National Mobility Equipment Dealers Association (NMEDA) supports the awareness month with the assistance of approximately 600 mobility equipment dealers, manufacturers and driver rehabilitation specialists located in the United States and Canada dedicated to expanding opportunities for people with disabilities. For updates, please visit MobilityAwarenessMonth.com, as well as Facebook, Twitter (@NMEDAcom) and Pinterest.
https://nmeda.org/wp-content/uploads/2015/05/cc45a92d0a0d028a0147c01dace5e4f3.jpg
0
0
nmeda
https://nmeda.org/wp-content/uploads/2020/06/nmeda-logo.png
nmeda
2015-05-15 00:00:33
2020-10-13 15:36:40
Secure and Safe Mobility Solutions