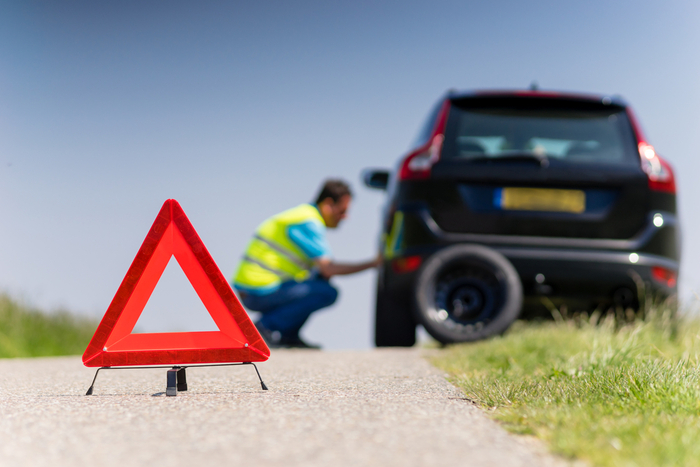 Getting stuck on the road isn't any fun!
Roadside Assistance for Drivers with Disabilities
Getting stuck on the side of the road due to a vehicle malfunction can be a major inconvenience and can keep you from achieving your goals for the day. For a person with a disability driving an adaptive or wheelchair accessible vehicle, this inconvenience can quickly become a big problem.
If you purchase your vehicle from a NMEDA dealer and you vehicle is under warranty, you will be covered. All NMEDA dealers offer 24-hour emergency service and you won't have to worry about other options. If you choose another route, purchasing roadside assistance services can help you get back on your way as soon as possible. Here are some things to consider when looking for the right membership.
Coverage
Make sure you select coverage that follows you from vehicle to vehicle. In other words, even if you are driving a rental or a family member's car, under this coverage, you will be entitled to roadside assistance.
Towing
Finding out the details in advance when it comes to towing can make a significant difference if you ever find yourself stranded. Will they provide an accessible vehicle for transportation? Will they tow your vehicle to a dealership or to the place of your choosing, such as a repair shop? What are the mileage limits? These are all questions you'll need the answers to prior to settling on a provider, as they will determine the efficiency of the service.
Additional Services
From help locating hotels to maps and directions, roadside assistance plans can come bundled with a wide variety of additional services. Analyze the plans the provider offers to make sure you're only paying for the services you might need to use.
Something to Think About
If you are a wheelchair user who drives his or her own vehicle, you might want to consider choosing a provider that caters specifically to persons with disabilities. The ADA Auto Club has been providing roadside services to wheelchair users since 1998, and is an affordable way to ensure help will always be near.
Drivers with or without disabilities should consider purchasing a roadside assistance program to protect them in the event of an unforeseen vehicle malfunction. Determining the best option for you may be tricky, but keeping these things in mind may make the decision a bit easier.
Do you have a roadside assistance provider? Share your experiences with us on Facebook and Twitter!
The National Mobility Equipment Dealers Association (NMEDA) is an advocate for mobility and accessibility for drivers with disabilities. If you need help with converting or buying a handicap accessible car, truck or van, please consider one of our mobility equipment dealers
https://nmeda.org/wp-content/uploads/2014/09/nmeda-blog-four-roadside-300x2001.jpg
0
0
nmeda
https://nmeda.org/wp-content/uploads/2020/06/nmeda-logo.png
nmeda
2014-09-30 14:48:42
2020-09-25 21:35:02
Roadside Assistance