NMEDA Rehab Hospital Tour
Detroit. Michigan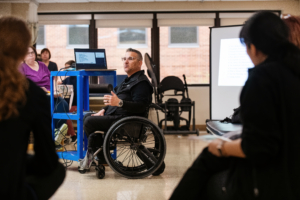 NMEDA's third stop on the Automotive Mobility Awareness hospital tour brought Trevor Jennings, Director of Partner Relations, and Matt Castelluccio, VP of Community Support for United Spinal Association, to the Rehabilitation Institute of Michigan in Detroit. They delivered an educational presentation to hospital staff, emphasizing the importance of NMEDA's Quality Assurance Program, educational resources for healthcare professionals, and highlighted the benefits of working with NMEDA dealers.
After the presentation, attendees had the opportunity to view accessible vehicles provided by local NMEDA members, Mobility Innovations and Creative Mobility Group, while enjoying free ice cream. Despite the lack of Spring-like weather, the event was a success. Many thanks to our members for participating, our next stop is at Touro Rehabilitation Center in New Orleans on May 31st.
Check out photos from the event below.