NMEDA on the Road: PVA's National Veterans Wheelchair Games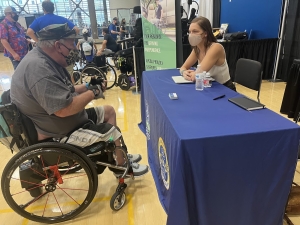 Last week, NMEDA exhibited at the Paralyzed Veterans of America National Veterans Wheelchair Games in Tempe, Arizona. The NMEDA team was present alongside over 600 Veterans as PVA was back live after a hybrid event in 2021.
While there, NMEDA Director of Government Relations & Public Policy, Amy Schoppman, and Director of Partner Relations, Trevor Jennings, were able to engage in discussions with PVA leadership, staff, and members on NMEDA veterans affairs policy, programs, and NMEDA resources.
We were even able to take a few minutes to chat with PVA about why their partnership is so important to us and how NMEDA's members can help PVA's members get back on the road and regain their driving independence. PVA shared some of this conversation on their social channels—check out the video below.
We are looking forward to supporting PVA again, this time focusing on their healthcare members, at the PVA Healthcare Summit in Dallas, Texas next month!