How to Keep Your New Year's Resolutions in 2015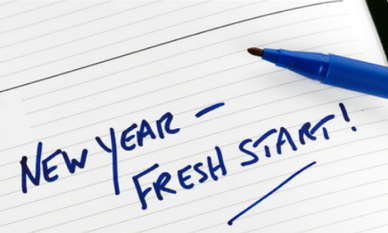 For most of us, New Year's is a chance to reflect on the past and decide to make some changes in the future. But it's certainly easier said than done. Studies found that 52% of people who made resolutions were confident they'd achieve their goals, yet only 12% succeeded.
If you really want to see results and make positive changes in your life, you have to set yourself up for success. Here are some simple steps to help you realize your goals.
Be Specific
Make your resolution specific with a sensible, achievable outcome. Keep it focused rather than too broad. Rather than saying, "I want to spend less and save more," determine in what areas you'll cut back and exactly how much money you want to save. Maybe even set a specific goal for yourself. For example, if you'd like to save for a new handicap accessible vehicle, why not do some research and determine just how much you need to set aside. Just remember not to get overwhelmed and think you have to change everything at once.
Write It Down
Once you set a goal, it's important to outline the steps you'll need to achieve it. A step-by-step plan helps eliminate the negative thoughts and frustrations that can get in the way of your success and helps you establish a plan of action. This will help you hold yourself accountable to reach your objectives and get you on your way to an accomplished resolution. Everyone makes mistakes, having a concrete plan gets you back on track.
Make the Time
Set out ample time in your schedule to achieve your goal. If you want to exercise more, designate specific time for working out or going to the gym. If finding the right accessible transportation solution for you and your family is at the top of your to-do list, dedicate the time you need to explore your options. Your busy schedule might make this difficult, but this commitment will make all the difference in helping you reach your goals.
Don't Beat Yourself Up
It's human nature to worry, feel fear and have doubts. If you want to make progress you have to move past these negative feelings. Remember that minor missteps when reaching your goals are perfectly normal. When negative thoughts come up, stay in control and replace them with positive ones instead.
Ask For Support
When you tell family and friends what you're trying to achieve, they can offer support, encouragement and play a big role in helping you keep going. Depending on what you're looking to achieve, you may also consider getting professional help from someone like a trainer to help you exercise or a Certified Rehabilitation Driving Specialist to help you get behind the wheel safely and comfortably.
When it comes to making and not breaking your New Year's resolutions, the key to success is to keep it simple and realistic. Those who set a step-by-step plan and include their friends and family are far more likely to achieve their goals than those who don't make specific commitments.
Have you made any resolutions for the New Year? Share your goals with us on Facebook and be sure to keep up with us on Twitter and Pinterest for more lifestyle tips.
The National Mobility Equipment Dealers Association (NMEDA) is an advocate for mobility and accessibility for drivers with disabilities. If you need help with converting or buying a handicap accessible car, truck or van, please consider one of our mobility equipment dealers.
https://nmeda.org/wp-content/uploads/2015/01/How-to-Keep-New-Years-Resolutions.png
233
388
nmeda
https://nmeda.org/wp-content/uploads/2020/06/nmeda-logo.png
nmeda
2015-01-07 16:18:36
2020-10-13 15:36:39
How to Keep Your New Year's Resolutions in 2015