Mobility My Way: Through the Years, Across the Miles

Through the Years, Across the Miles
Disabled veteran John Bollinger recalls his more than five decades behind the wheel.
By Mike Savicki
This story begins in the days of the Ford Torino, Chrysler Newport, Chevy Citation, Chevy Celebrity, Buick LeSabre, and Cadillac Coupe DeVille. Remember those cars? Driving one of those beasts was like cruising down the road as if your living room was on wheels.
Actually, this story begins even earlier than that. Let's turn back the clock way back to the 1960s. Meet John Bollinger, a young Navy Ensign. After growing up in Pittsburgh and graduating from Muskingum University, John received his officer commission in June 1969 and began serving in the US Navy aboard LST 1163, USS Waldo County, in Panama. His main job was to keep track of Russian submarines in the Caribbean.
He says it wasn't a bad gig for a young officer.
A short six months later, a spinal cord injury sustained in a diving accident changed everything. John became a C6,7 quadriplegic. He returned to the States, was discharged from the Navy, sold his 1963 Austin Healy 3000, and went to work for the VA where he sat and worked in a cubicle for 16 years.
"I was one of two people in wheelchairs in a building of more than two thousand," John Bollinger recalls. "I consider those years to be my crippled years. I didn't know many others in chairs, I didn't know what I could do, and I felt like I wasn't a part of things."
His sports car?
"It was a wonderful car but after my injury I just couldn't get my quad body into it so I had to say goodbye," he says.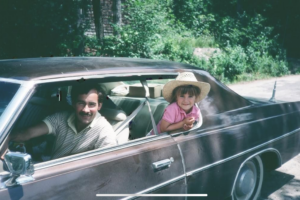 His fast car gone, John's life moved to the high speed lane. After a meeting with longtime PVA Executive Director, Gordon Mansfield, John joined the organization in 1987, first as Associate Legislative Director then Director of National Advocacy and finally as Deputy Executive Director. For more than a decade, he oversaw all PVA research, communications, and sports. The National Veterans Wheelchair Games was in his wheelhouse. And his efforts helped catalyze the passing and implementation of the ADA.
"What PVA gave me I could never give back," he says. "With PVA I was in the mainstream. Through the 1990s I was on airplanes twice a month, renting cars in cities across the country. I saw guys in chairs spending entire days on Capitol Hill then coming back to the office and putting in more hours, commuting like everyone else, sometimes upwards of two hours each way depending on DC traffic. I had skin in the game. We all did."
For more than three decades, having a car was essential and John had two main rules to guide his purchasing choices. Two doors (the bigger the better) and a bench seat. Why? He would transfer in on the passenger side, slide across, fold up his chair, pull it in either to the back or front seat, then go. And go he did.
Remember the cars listed at the beginning of the story? John drove every one of them. He has stories for every vehicle. The Cadillac? Actually, John drove two different Coupe DeVille's. Credit his son, John, for totaling the first one. John, the dad, had to buy a second.
As the new millennium arrived and bench seats disappeared, John's physical needs changed, too. He transitioned to a power chair and with it came a minivan. At first he would transfer from the power chair to a swivel driver's seat then, when that became too physically demanding, he installed an EZ Lock system with Featherlite hand controls to drive from the chair. Being active in both DC and Florida, his winter, escape, necessitated the transition.
As far as steering devices, John has tried several different ones but still loves the original spinner knob his brother bought for him at a truckstop more than 50 years ago. Truckers call it a suicide knob. A little pine tar still keeps his sticky.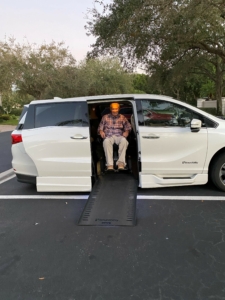 In the spring of 2022, while driving his BraunAbility Sienna minivan, John was rear ended and his van totaled. The accident, during the height of Covid and supply line shortages, made finding a short term replacement all but impossible. There were no rental vans available, delays on building new vans were taking months, and finding public transportation was expensive and limited.
"Being without a vehicle is devastating. You are at the mercy of others and in some places that is difficult," John says. "It is almost criminal what taxi services charge for an accessible vehicle regardless of where and how far you want to go."
It took three months for him to get a Chrysler Town and Country but the 14" dropped floor was not ideal. He then owned a Dodge Caravan for a while.
"I grabbed it because there wasn't much else available during COVID and I was afraid I'd be stuck because of the supply chain issues," he says. "It is almost impossible to rent a van with hand controls and that needs to change."
He then purchased his current ride, a 2022 Honda Odyssey, through Mobility Works, who now service it both in Naples and Alexandria.
When I asked John to share one thought or take away from his years behind the wheel, his message was simple and direct.
"Driving is one of the most important aspects of living," he says. "It never hit me until it was gone. Having access to a car is one of the most important aspects of life for disabled."
Now fully retired, John Bollinger spends his time with his wife, Judy, their daughter, Lindsey (and her children), plus his son, John. Road trips are important and visits to Linsey in San Francisco and Austin in John are essential to their lifestyle, too.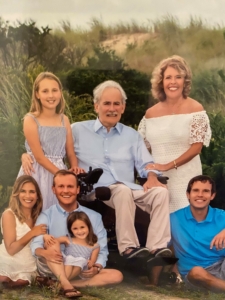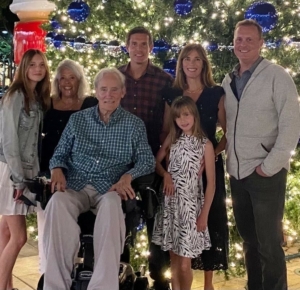 So, too, is his daily writing in the journal which he began in 1990. If you are counting, the journal now totals more than 5000 pages. I wonder what other mobility stories that journal contains. I wonder how listening to someone like John Bollinger sharing tips and suggestions might enhance, advance, and make the industry better for everyone.
Across the miles and through the years, John Bollinger has lived it all.
https://nmeda.org/wp-content/uploads/2023/02/MMW2_Jan2023-scaled.jpg
2560
1920
Katie McDonald
https://nmeda.org/wp-content/uploads/2020/06/nmeda-logo.png
Katie McDonald
2023-02-14 10:40:45
2023-04-17 10:41:38
Mobility My Way: Through the Years, Across the Miles