Mobility My Way: Teacher, Off-Roader

Jack Losco, Jr. balances life in the classroom and off the road
By Mike Savicki
Jack Losco, Jr. wanted to be a smokejumper. Yes, one of those specially trained wildland firefighters who provide first attack response, often by parachute, into remote and all too often dangerous backcountry fires. Smokejumpers are as badass and adventure seeking as they are professional, disciplined, and dedicated. They use adrenaline to eliminate adrenaline. They escalate to eliminate.
That's Jack. He understands, lives, and loves on both ends of the spectrum. He's a kind and caring teacher, son, brother, and friend to all who know him. He is a role model not only to the students he teaches but also to those who know him. And to those who "adventure" right alongside him either at his home in North Carolina or during the summer in the Colorado backcountry, he is an incredible driver, his off-road Jeep a machine of power.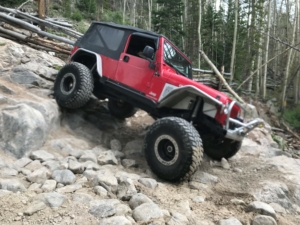 Jack's story begins in western Pennsylvania far out in the country. Think hunting, fishing, hiking, working, and playing on a dairy farm. Ten acres to be specific. His sister had horses. He and his brothers were always on dirt bikes and ATVs.
"We are, were, and always have been outdoor people," Jack Losco, Jr., now 54, says. "Dirt roads and four-wheelers were our thing."
Forestry and smoke jumping school at the University of Montana in Missoula was where his path took him. Going part way through the windshield in a car accident during his second year was not in the plan. That was 35 years ago.
His brothers were upfront with him during his 5-month inpatient and additional yearlong outpatient rehabilitation stint at Harmarville outside Pittsburgh.
Their conversation went something like this.
"[My brothers said] you have two choices, you can lay in this bed and feel sorry for yourself, or you can get up and go and do things and be part of this family," Jack recalls, adding, "and the first choice is not an option."
So, he was soon back behind the wheel driving a modified six-wheel amphibious ARGO. It took him hunting and gave him the tools to get back to work on the farm. To get back outside.
As a C5 quad, driver training did not come easily. Jack's injury level and an accident-related stroke initially limited his ability to turn the driver's wheel and operate standard hand controls so he put in extra gym sessions to build his strength and stamina. He passed the road test on his second try before finishing rehab.
Finding a job came next. Jack's occupational therapist put the wheels in motion for his new career in education. After being surprised that an aptitude and interest test suggested he would be good working with kids, she steered him towards teaching. He went back to school and finished his studies both in engineering and education. Together they visited schools and spent time in classrooms from elementary through high school.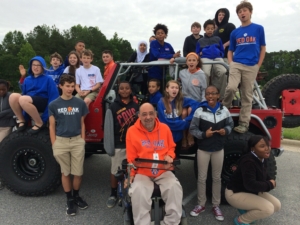 When Jack found a Pennsylvania public school needing a middle school science teacher, he realized it was his calling. In 1999 he moved south to teach at a brand new fully-accessible public school in a district east of Raleigh, North Carolina. He has now been teaching there for nearly 24 years.
"My 'why' story?" He jokes. "I think God wanted me to work with these kids, he just had to hit me really hard over the head to make me realize it."
While his daily driver, a Dodge Grand Caravan which he operates from his power chair with an EZ Lock is special, it is his Jeep that gives him outdoor freedom.
Attending a Jeep and 4×4 show opened his eyes again to the possibility of going off-road, a freedom he had been craving since his injury. He sold the ARGO and purchased a Jeep Rubicon Edition with off-road upgrades galore—40" tires,1-ton axles, 4 link rear suspension, 3 link front suspension, Nitrogen struts, and a full roll cage. He pulls it behind his custom built, fully accessible box truck camper, a family project completed with collaboration from his dad and brothers.
"The Jeep is my decompression zone, my happy place," Jack says. "When I'm driving, I forget about everything else.
"And so many people don't realize I'm disabled when the door closes," he adds.
Jack is a regular in North Carolina's Uwharrie National Forest, his 51,546-acre playground. And he is quick to join organized off-road treks especially in the summer in the Rockies.
And how does he drive the Jeep? His driving controls, and seating system, more closely resemble a fighter jet than an off-road machine. The Jeep is equipped with dual joysticks linked to an EMC AEVIT 2.0 system. His left joystick controls gas (toggle back) and brake (toggle forward) while the right joystick overrides the steering wheel. And to get in and out he elevates his power chair then uses a roll cage mounted winch. His driver seat has extra cushioning and multiple point securement.
"Finding EMC has given me the opportunity to do what I love behind the wheel but it took a long time, and there was a lot of frustration along the way," he explains. "So many people have no idea what's out there and, as an industry, that's why it's so important to connect with the consumer."
Jack says his life is not an individual effort at all, it is the result of an overlap of faith, family, and friends.
"I have support that's unbelievable for most. It has never been a 'me' thing and it never has to be," he says. "I tell my kids that they help me as much as I help them. Sometimes they wonder why I don't just stay home and collect a check, I tell them that being part of something you love, and doing what you have a talent to do, is worth all the effort."
And for Jack, the teacher and the off roader, being mobile is at the center of it all.
"For me, mobility is synergistic, the sum is much greater than the addition of the individual parts," Jack shares. "It is more than just getting to a destination; it is therapeutic."
https://nmeda.org/wp-content/uploads/2022/12/MMW2-scaled.jpg
1920
2560
Katie McDonald
https://nmeda.org/wp-content/uploads/2020/06/nmeda-logo.png
Katie McDonald
2022-12-13 10:50:52
2022-12-13 10:50:52
Mobility My Way: Teacher, Off-Roader