Brian Muscarella's new road to adventure
By Mike Savicki
Speaking with Charlotte's Brian Muscarella, it's hard to imagine that there was once a time that he was intimidated by driving with hand controls. But for those first six months after his highly rare, C7 level, spinal stroke at age 53, he certainly was. Yes, even as he was learning to do so much in life all over again, and adding the new dimension of adaptive sports, he didn't think he could drive.
To put it in perspective, to say the former managing director of New York Life, who was used to no less than 120 flights and 160 to 170 nights a year in a hotel room while serving clients up and down the East Coast, was comfortable being on the move would be an understatement. Travel, rental cars, and living a mobile lifestyle was just what he did.
"I basically spent the first nine years of my marriage home only on weekends," he tells me by phone while visiting his 95-year-old father in Florida.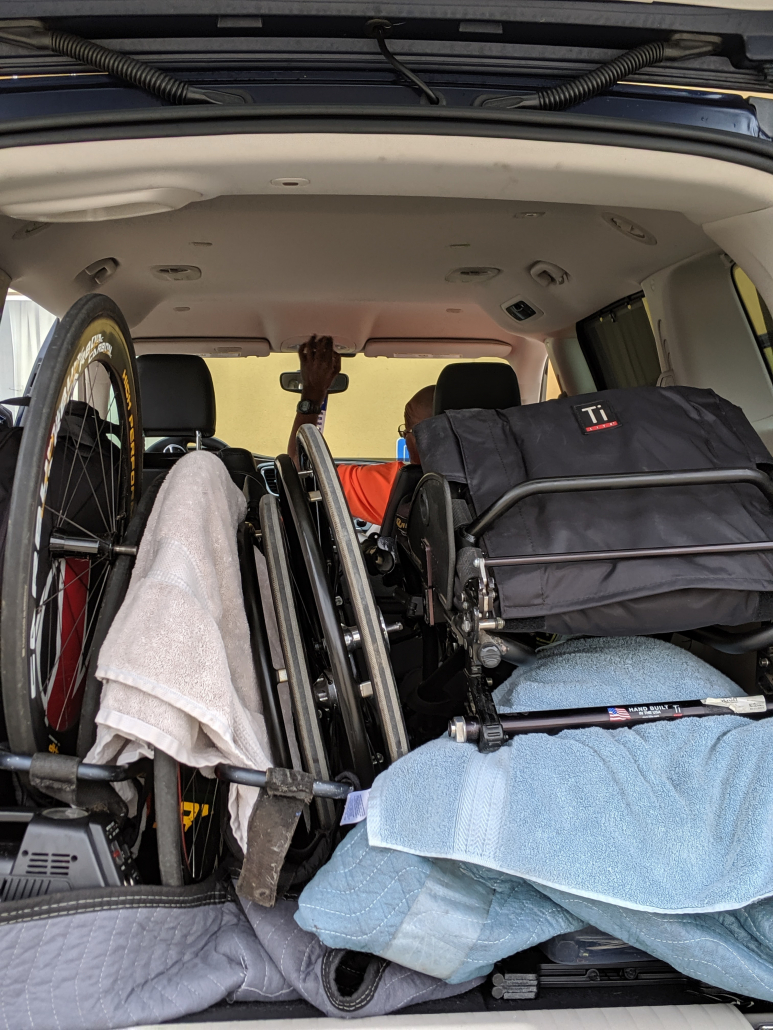 Since Brian did not feel comfortable behind the wheel, he did what most executive minded types might do, he made a spreadsheet that paired his ride needs with willing drivers, confirmed and confirmed again, and set off on a new path. The system worked at first but when the time came to head to a wheelchair rugby tournament in Atlanta, and his wife, Carol, could not check her box, Brian made the decision to install electronic hand controls (to keep the area below the steering column clear for positioning his legs) in his Hyundai Santa Fe SUV. He learned from friends how to transfer in the driver's side, disassemble and stow his chair, then hit the road. It was at that moment his world changed.
"Truth be told I wasn't afraid of the gas, I was afraid of learning and feathering the brake," Brian shares. "I was afraid that driving after my injury wouldn't be the same so, looking back, I blocked it out for too long."
In the 10 years since that first solo road trip, life on the road in a vehicle packed with everything from everyday wheelchairs and handcycles to wheelchair rugby arsenal fills his days. We discuss a handful of trips he makes each winter and spring to Florida for sports and family, trips to and from Wichita, Kansas, for national handcycle events, and daily trips to volunteer with no less than a handful of local and national non-profit organizations
It's what I do," he exclaims.
After shifting from his last executive position, Brian is a fundraiser, a peer mentor, a multi-sport athlete, and a non-profit volunteer. In addition to duties as the president of Villinova's Alumni Association Charlotte Chapter, he advises their Office of Disability, coordinates their student LEVEL Service Program, and serves on the University Board of Directors. He has also become a strong advocate for the disabled and got involved with the Adaptive Sports and Adventures Program (ASAP) at Atrium Health Carolinas Rehabilitation.
Speaking of ASAP, Brian is a regular participant in their annual three-day, 180 mile "CYCLE TO THE SEA" fund (and awareness) raising cycling/handcycling adventure from Charlotte to North Myrtle Beach. In the last nine years, he has raised nearly $280,000 to fund community programs for the disabled.
And 20 years to the day after Muscarella first finished the New York City Marathon on foot (he finished four consecutively), he did it again in 2017, this time riding a handcycle.
"It was pretty surreal," he says of the 2017 race. "Getting on a bus on Park Avenue at five in the morning was an ordeal. When I ran in '97 twenty-seven thousand ran it, too, and in 2017 there were fifty thousand. (It was) massive. The first mile up the bridge was just like I remembered it from twenty years ago. (It was) eerily quiet, just the sound of people running back then and now the sound of people cranking their cycles."
Before we finish our call and Brian heads off first to spend time with his father then handcycle near the Suncoast Parkway, he shares a few more thoughts.
"Looking back, my injury was very difficult at first, my job and my life was how I defined myself," he explains. "So I focused my energy on recovery and redefining myself, always thinking 'what can I regain, what can I still do?' My injury put me on a whole different path that I would have never been on. With this new direction came new stimulus, new activities, new opportunities, and I'd like to think it is for the better.
"And driving is one of the freedoms I encourage people to pursue as soon after their injuries as possible. It's easier than you think. No need to panic, you are every bit as in control as other drivers," he adds. "I can't believe I was intimidated."
If you are wondering, after driving the Santa Fe "into the ground" a few years ago, Brian installed only a new set of hand controls in a new 2017 Chrysler Pacifica. He prefers transferring in the driver's side and disassembling then stowing his chair instead of using a ramp and lowered floor so he can keep (and often fold down) the middle row of seats for transporting his fully assembled handcycle and storing gear within reach.
"I looked at a variety of different types of vehicles but the Pacifica gives me the most options for bringing all my equipment and also transporting people," Brian explains.
His new vehicle also has a dedicated seat for his (now) seven year old granddaughter, whom he drives not just to daycare and outings but also to see him compete.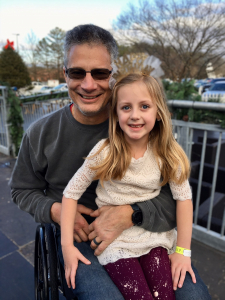 "There was a time when she was born that I didn't think I could hold her but that changed and now, with her seeing me being active and involved in the day-to-day, we are changing the mindset of a generation," Brian says. "Kids and grandkids aren't going to look at the wheelchair and stare at us and think we are different, they are going to look at it all as something normal. They will look (at our vehicles and our wheelchairs) and say 'what sports do they do' and 'do they know my Poppy'."
As to what might come next, Brian is excited.
"Then there's the possibility of autonomous vehicles," he interjects, "and all the opportunities and possibilities that will come with them."
But that's another story…