Mobility My Way: A Planner and Pioneer of What's Possible

Tricia Downing is a planner. More specifically, she's that special proactive type who always likes to look and think five steps ahead so that she will be ready for what's around the corner and heading her way. The strategy has served her well especially as a paraplegic following her spinal cord injury resulting from a competitive bicycle training collision with a car in September 2000. She earned master's degrees in both sports management and disability studies, authored two books (the 2010 memoir "Cycle of Hope" and the 2018 novel "Chance of Rain"), is a founder and camp director, corporate speaker, and Learning Designer for Ernst & Young.
She's a pioneer, too. In the world of adaptive sports, Tricia is a longtime voice in paratriathlon and paraduathlon, the first woman to complete an Iron distance triathlon and a multiple-time competitor in the Hawaii Ironman World Championships. She has worn the red, white, and blue for Team USA in adaptive rowing and, of late, is the country's top female Paralympic air pistol competitor having represented Team USA at the 2016 Rio Paralympic Games.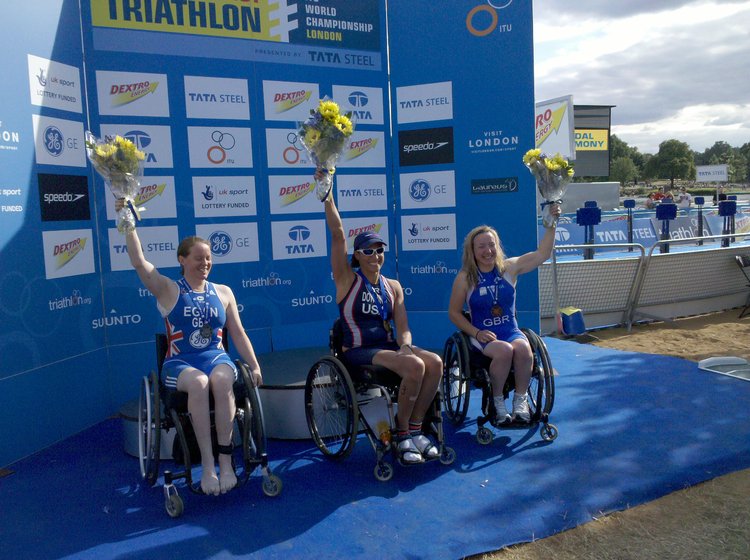 Tricia is also a straight shooting voice of reason when it comes to disability and the place of the disabled in society. That's what we spent most of our time discussing when we connected for this article.
"You caught me on a day I'm all fired up," Tricia Downing, 52, of Denver, Colorado, begins. "I'm fired up because I'm tired of the emotional tax that I, and most others with disabilities, have to pay in our society."
The emotional tax she is referring to is the state of having to always be on guard and consciously preparing to deal with the potential bias that comes with living differently.
Case and point? Ever hear of being "house poor?" Downing describes what it's like for the disabled to be "car poor."
"When I was first injured, I drove my Subaru Outback to well over two hundred thousand miles. When it came time to trade, the dealer suggested I simply lease so I drove home with smaller payments and just the additional cost of hand controls," she says. "Almost any able bodied person can lease a car for almost nothing, right? But take a van with a ramp and not only can you not easily lease, you are instead paying three and four times as much per month just because you are disabled.
"This is a hot button with me," she continues, "because I really try to be a contributing member of society, I have a job and try to live a normal life but, because of the things that come with having a disability, like the need for adaptive vehicles and vans, we can never get ahead, it's like we are just getting by, and that's wrong.
"There should be some sort of simple leasing program for vehicles with ramps," she adds. "If I or someone could lease a van with a ramp it would be so much easier. Companies want more diversity. The disabled want to work but can't fit in transportation. Just because you are disabled doesn't mean you have to stay stuck at home. No one wants that but that's what seems to exist. There has to be a different way for this system. Right now it's not fair."
And she shudders to think about having to purchase a new van. Her current, secondhand, 2010 Dodge Caravan has more than 130,000 miles on it.
"To be honest, I'm going to need a new van sometime soon and the thought is freaking me out," she exclaims.
She's exhausted to the core.
But one of the things that makes Tricia Downing so remarkable is her ability to reframe difficult situations and paint a clear picture of what's possible. Her message is one about "redefining able" and moving forward through whatever it is that might be confining us. It is planning. It is pioneering. It is persevering.
"Life is an endurance event," she says, "and in every race, every competition, there are those times where we are challenged and feel confined. Confinement isn't a wheelchair, confinement is being stuc
Tricia Downing says change begins when we change our mindset. And as it relates to driving, society is in need of a mindset change.
"I'm all for public transportation but feel like if you want a car you should be able to have a car, disability or not." she asserts. "Transportation isn't considered a luxury for the able bodied so it shouldn't be considered a luxury for the disabled, even with the additional costs that come with it. Transportation should be part of our day-to-day lives so that there are better opportunities for all of us to help make society a better place."
https://nmeda.org/wp-content/uploads/2021/09/Book-photo-11-River-Bank-Run-Photo.jpg
1400
2100
Katie McDonald
https://nmeda.org/wp-content/uploads/2020/06/nmeda-logo.png
Katie McDonald
2021-09-25 12:57:15
2021-09-28 12:59:44
Mobility My Way: A Planner and Pioneer of What's Possible