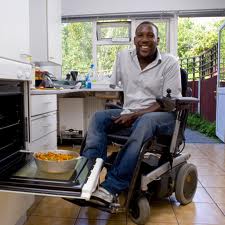 Ready to take the heat again? Think it's time to get back in the kitchen? Whether you miss tending to a fiery passion for food or you're tired of day-old delivery, dreams of putting a pan back in your hand can quickly become a reality again.
People with disabilities might initially shy away from seemingly difficult hobbies or chores. But the chances are high that they are also unaware of the exciting alternatives available in the adaptive community. Your cooking days are not over simply because you are seated in the kitchen. In fact, adaptive cooking classes often require that instructors (those not living with a disability) perform culinary tasks just as their respective students would.
More important than pursuing or renewing a passion for cooking is the nutritional and financial value in preparing your own meals. Now more than ever, we are reminded on a daily basis of the financial climate we live in. Preparing your own meals at home helps you save money and empower you to eat more nutritious foods, cooked to your liking. So, make yourself at home in the kitchen with ease with a little help from gadgets and gizmos like the one-handed bottle opener, one-handed can opener, and self-stirring cookware. Cut your favorite fruits and veggies with a specially crafted cutting board and you're well on your way to whipping up your favorite meal, on your own.
If you're not a hot shot in the kitchen, but you want to be, ask local community centers if they offer adaptive cooking classes. Who knows, this could be your chance to start something new and exciting for your friends to enjoy. All it takes is willing participants, and who doesn't like food?
The National Mobility Equipment Dealers Association (NMEDA) is an advocate for mobility and accessibility for drivers with disabilities. If you need help with converting or buying a handicap accessible car, truck or van, please consider one of our mobility equipment dealers.
https://nmeda.org/wp-content/uploads/2013/01/cooking.jpg
0
0
nmeda
https://nmeda.org/wp-content/uploads/2020/06/nmeda-logo.png
nmeda
2013-01-18 04:57:29
2020-11-20 08:06:48
Look Who's Cooking!