Handicap Minivan Ramps: Side-Entry Vs Rear-Entry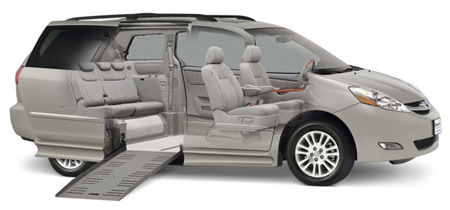 When buying or renting a handicap accessible van, you'll have to choose between a side-entry or rear-entry ramp. In the past, side-entry has been a top seller, however, rear-entry ramps are gaining in popularity.
Both styles offer a power ramp and doors plus a power kneeling system, but after that you notice the differences.
The big differences in the two are in wheelchair seating positions, amount of space for passengers, and parking options; so consider the pluses, minuses and options below before deciding which ramp fits your needs.
Side-Entry Wheelchair Ramp
Pluses
The wheelchair user can transfer to the driver's seat, drive from the wheelchair or sit in the front passenger position in the wheelchair.
Has wheelchair accessible access on the passenger (curb side)
Offers more storage space
Minuses:
In a handicap parking space, extra room is required to deploy the ramp
Some driveways are not wide enough to deploy the ramp
Costs more money than a rear-entry ramp
Options:
Rear Entry Wheelchair Ramp
Pluses
With the exception of parallel parking, only a little extra space is required for a ramp.
Mid-passenger seats can be mounted next to the wheelchair position.
Side passenger doors aren't blocked by a ramp.
Offers more ground clearance and more room for long wheelchairs and/or leg rests.
Minuses:
Must enter and exit near a traffic area
Inability to drive from the wheelchair and/or have the wheelchair in the front passenger position
Less storage space
Options:
Driver swivel seats available
Ask a NMEDA dealer for more information on handicap accessible vans and to guide your selection of the ramp best suited to your needs.
The National Mobility Equipment Dealers Association (NMEDA) is an advocate for mobility and accessibility for drivers with disabilities. If you need help with converting or buying a handicap accessible car, truck or van, please consider one of our mobility equipment dealers.
https://nmeda.org/wp-content/uploads/2011/12/wheelchair-vehicle-ramps.jpg
210
450
nmeda
https://nmeda.org/wp-content/uploads/2020/06/nmeda-logo.png
nmeda
2011-12-16 17:31:20
2011-12-16 17:31:20
Handicap Minivan Ramps: Side-Entry Vs Rear-Entry