Flying The Friendly Skies in Wheelchair Accessible Vehicles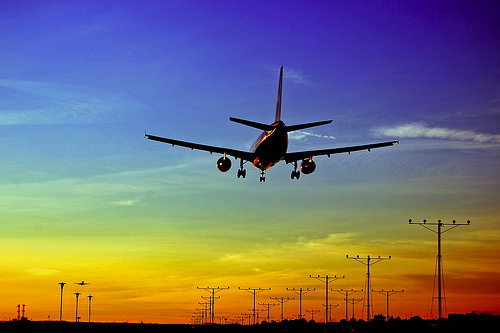 Airport Travel Tips for Wheelchair Users
Architectural designers have made access to airports far easier these days for those using wheelchair accessible vehicles.  Traveling can be stressful for any individual, but the airport crowds and airplane accessibility can be even more challenging for travelers with disabilities. While the process will never be completely hassle-free for anyone, we have compiled a list of pointers that we feel may alleviate some of the stress involved in air travel.
Security Checkpoints
Before flying, its always a good idea to do the research and educate yourself on the procedures you or your loved one in a wheelchair will encounter with TSA screenings.  Instead of being asked to pass through the scanner, TSA regulations call for wheelchair users to submit to a pat down.  If you are uncomfortable with this procedure, you are welcome to ask for a private screening.  TSA agents will be able to assist you, if necessary, with removing your shoes or placing any extraneous items on the x-ray belt.  More in depth information is available on TSA policies and procedures for travelers with disabilities and medical conditions.
Boarding and De-Boarding the Aircraft
Airplanes are wheelchair accessible vehicles, but it is wise to arrive early enough to your gate (recommended time is about an hour in advance) to get you and your wheelchair checked in for your flight. In this process, be absolutely sure that your chair has been tagged. This ensures that your chair reaches your final destination with you. You may also request to pre-board your flight so that you have ample time and room to be comfortably seated before the crowd files onto the plane. Know that you will be the first on the plane, but the last to de-board after all the other passengers have excited the aircraft.
Car Rental
If you will be renting any wheelchair accessible vehicles with hand controls, know that you should order your vehicle at least 48 hours in advance to ensure the proper vehicle is ready when you reach your destination. Additionally, do your homework ahead of time to ensure you're working with a car rental company located inside the airport if at all possible. This prevents the hassle of reaching the car rental station via bus or tram.
We strongly encourage you to call your airline and car rental companies in the beginning of your travel planning process in order to explain the equipment you will be traveling with, and make the best arrangements possible to allow for smooth travels.
This mobility safety update has been brought to you by NMEDA – the National Mobility Equipment Dealers Association. Do you need information on how to make your vehicle wheelchair accessible or upgraded with the latest and most convenient features? Contact a NMEDA dealer in your local area. Your local NMEDA member is a mobility equipment and accessibility expert!
https://nmeda.org/wp-content/uploads/2011/10/DOT-flying-hotline.jpg
0
0
nmeda
https://nmeda.org/wp-content/uploads/2020/06/nmeda-logo.png
nmeda
2013-02-28 21:10:52
2020-10-13 07:42:31
Flying The Friendly Skies in Wheelchair Accessible Vehicles