Features and Advantages of Wheelchair Accessible Motorized Homes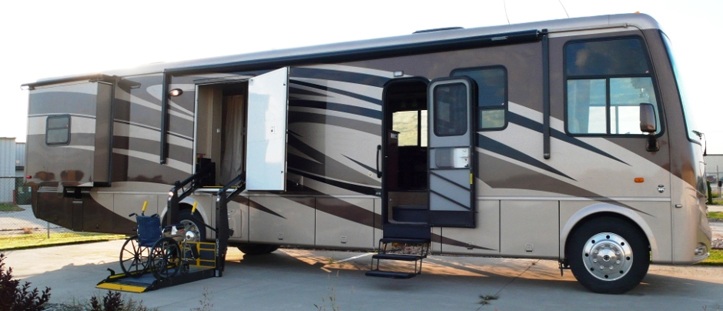 Going on a long road trip? Why not take the comforts of home with you? An accessible recreational vehicle (RV) allows families and individuals with disabilities to travel in comfort and style.
Amenities
Whether you are a couple of lovebirds on a romantic retreat or a family of four searching for your next great adventure, an accessible RV can make your time on the road an absolute dream. With roll-in showers, conveniently placed assist bars and wheelchair lifts equipped into these vehicles, getting in, out and around inside them is a breeze. Certain RVs also boast queen-sized beds, dining areas and TV mounts, so comfort and entertainment are never far away.
Versatility
One of the greatest advantages of wheelchair accessible RVs is their versatility. These vehicles are easily adapted to fit any individual or family's particular needs. Whether your family of four needs room for medical equipment and multiple wheelchairs, or your two-day trip across the state spontaneously became a two-week journey to the nearest beach, an RV can be easily stocked and readied for any situation.
New Experiences
Traveling in a 'home on wheels' can open doors for all new experiences, from exploring state parks to driving across the country without the worry of having to find accessible accommodations. Motorized vehicles can be stationed in RV parks, backyards, campgrounds and more, with little to no cost involved! Many travelers with disabilities have experienced the hassles of inaccurate descriptions of hotel accessibility, as well as being unable to comfortably enter or move around in the homes of those you are visiting. By traveling in a portable home, virtually all destinations become accessible, eliminating these stresses and helping make your vacation a smooth ride.
While investing in a custom accessible RV may be a big decision for some families, there are a number of more affordable options for travel enthusiasts seeking this type of transportation. Used or rented vehicles can cut costs by thousands, while keeping all of the featured amenities and advantages. If you think it's time to take your travel plans to a whole new level, consider an accessible RV.
For more mobility updates, be sure to follow our Twitter and Pinterest pages, as well as connect with us on Facebook.
The National Mobility Equipment Dealers Association (NMEDA) is an advocate for mobility and accessibility for drivers with disabilities. If you need help with converting or buying a handicap accessible car, truck or van, please consider one of our mobility equipment dealers.
https://nmeda.org/wp-content/uploads/2014/01/Updated-Blog-image-1.jpg
311
723
nmeda
https://nmeda.org/wp-content/uploads/2020/06/nmeda-logo.png
nmeda
2014-01-10 19:21:28
2014-01-10 19:21:28
Features and Advantages of Wheelchair Accessible Motorized Homes