5 Essential Apps for People with Disabilities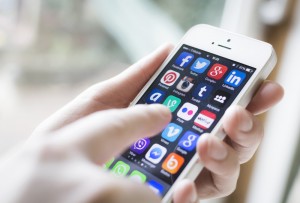 It's no mystery that smartphones have completely changed the way we view our everyday activities. Whether we are communicating with loved ones across the country or snapping photos of our pets, our various devices are rarely ever more than an arm's reach away. For people with disabilities, these devices have improved accessibility in areas that extend past communication methods. From emergency assistance access to applications that boost independence, here are a few of the most useful apps for people with disabilities:
Indispensible Applications for Disabled People
Color Identifier uses your device's camera to detect colors in order to assist those with visual impairments. The intuitive app will quickly identify the color, speak and display its unique name and provide the color's HEX value.
HearYouNow allows people with limited hearing abilities to increase the volume of sounds around them. Using a pair of headphones, users can have presentations, TV shows or even just the sounds inside their home relayed to their smartphones in real-time.
Medication Reminder is an easy to use app that prompts users to take their medications as prescribed to them. Simply set the time you wake up, as well as the time you generally go to bed and how many doses you are required to take in a day, and the app will calculate your medication intervals and send you reminders.
Built in accessibility features such as enlarged text, voice-to-text and an on-screen control panel that eliminates the use of small, sometimes hard to operate buttons have given individuals with disabilities options on how to use their phones in the most comfortable ways.
Having an emergency information card directly on your smartphone can make a world of difference during trying times. The ICE Standard app lets you fill in important information about yourself that may be necessary in emergency situations. Details like allergies, emergency contacts and medical conditions may be added and pulled up during an event in which you may be unable to relay those facts.
With technology moving forward at a faster pace each day, the world of accessibility boosting applications continues to grow. Be sure to visit our Facebook and Pinterest pages for the latest in useful apps!
The National Mobility Equipment Dealers Association (NMEDA) is an advocate for mobility and accessibility for drivers with disabilities. If you need help with converting or buying a handicap accessible car, truck or van, please consider one of our mobility equipment dealers.
https://nmeda.org/wp-content/uploads/2014/06/blog-1-hand-holding-phone-300x203-1.jpg
203
300
nmeda
https://nmeda.org/wp-content/uploads/2020/06/nmeda-logo.png
nmeda
2014-06-04 12:59:46
2020-11-20 08:08:11
5 Essential Apps for People with Disabilities