Educating the OTs
AOTA Conference & Scholarship News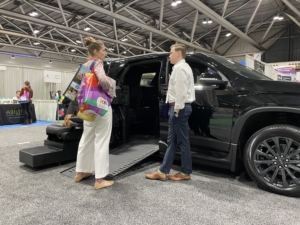 NMEDA was in Kansas City April 20-23 to exhibit at the AOTA Inspire Annual Conference & Expo. NMEDA's Director of Education, Training, & Conference, Amy Lane, and Director of Partner Relations, Trevor Jennings, were set up in the expo hall with a BraunAbility Chevy Traverse compliments of United Access to share with the occupational therapists not only the importance of driving for individuals with mobility challenges, but also the importance of making sure their patients are going to QAP dealers to ensure the best possible outcomes when purchasing a vehicle or adaptive driving equipment.
With over 7,000 occupational therapists in attendance, NMEDA was able to provide valuable resources to the attendees that will help them provide better information for their patients. While in Kansas City, NMEDA also met with AOTA staff to discuss how we can work together more effectively to get the AOTA membership the information they need on auto mobility.
Additionally, NMEDA attended a reception held by the University of Florida (UF) Department of Occupational Therapy where the scholarship NMEDA will be providing to support tuition for one student enrolled in the Certificate in Driver Rehabilitation Therapy program was announced. All in, this was a terrific event for NMEDA to promote auto mobility to OTs as well as plan for how we can provide more resources in the future.
Check out photos from the event and learn more about the scholarship below.