Fashion Designed With Abilities in Mind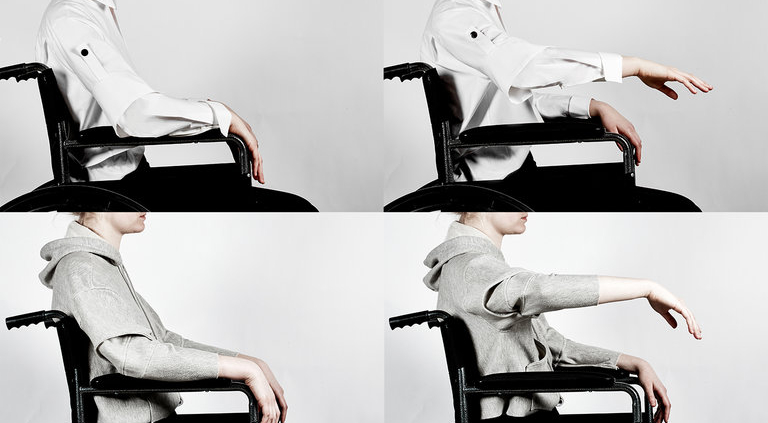 For people living with disabilities, tasks like buttoning a shirt cuff can become an everyday challenge.
There's a group of clothing companies, though, that have designed collections that focus on making daily tasks seem less daunting.
Making it Happen With Magnets
Maura Horton found the inspiration for her clothing line, MagnaReady, when she noticed her husband was having trouble buttoning his shirt cuffs. Having been diagnosed with Parkinson's disease four years prior, Horton's husband Don was in need of an easier way to get dressed each morning.
"I looked at my iPad cover and saw it had these really small magnets, and thought, 'Well, what about that?" she said. After several designs and patents, Horton's shirts were now able to fasten at the cuffs with the help of a few well-placed magnets.
The Rising Popularity of "Healthwear"
The growing trend of "healthwear" – clothing designed to integrate into the lives of people living with disabilities and ailments—extends beyond those with physical disabilities.
Companies like Care and Wear have designed collections that come equipped with removable zippered chest pockets that allow for easy access to medical ports. Part of a much larger movement, though, "healthwear" can help people living with disabilities regain some of the conveniences that can be lost with partial or full paralysis.
After meeting with United Cerebral Palsy of New York City, Lucy Jones, a designer specializing in clothing for wheelchair users, noticed a strong need for wardrobes that help minimize the challenges that come with getting dressed. "I couldn't believe what I was hearing," she said. "Something everyone does — get dressed and undressed — should not be a challenge."
The Future of Conscious Clothing
To tap into the potential of clothing that comes with high levels of functionality, notable fashion designers, like Calvin Klein, and universities have joined forces. Places like M.I.T have created labs where engineering and design students are paired with clients with disabilities to create adaptive clothing.
Some of which ends up going into full production. "In today's world, we are all asking ourselves how we can play a role in bringing change to problems around us as an individual," Burak Cakmak, dean of the fashion school at Parsons, said.
The National Mobility Equipment Dealers Association (NMEDA) is an advocate for mobility and accessibility for drivers with disabilities. If you need help with converting or buying a handicap accessible car, truck or van, please consider one of our Quality Assurance Program mobility equipment dealers.
https://nmeda.org/wp-content/uploads/2016/09/Adaptive-fashion.jpg
512
768
nmeda
https://nmeda.org/wp-content/uploads/2020/06/nmeda-logo.png
nmeda
2016-09-08 18:49:03
2020-10-13 07:22:01
Fashion Designed With Abilities in Mind