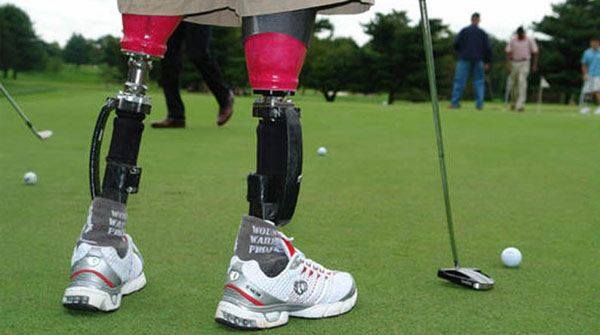 With the recent news about the PGA HOPE program, we have been pondering what it takes to play the sport with a physical disability.
Fifty years ago, golfers had to carry their clubs or drag a pull cart for 18 holes. Needless to say, not many people with disabilities played golf. But in 1962, Merlin L. Halvorson invented the first self-propelled golf car. Hallelujah! Now more and more golf courses are offering single-rider golf cars with swivel seats so golfers with mobility problems can play.
You don't have to play video golf for your golf "fix." With adaptive golf cars, not just those with impaired mobility can swing a club, but seniors, those with heart problems, arthritis and many other problems can play. Both acceleration and braking are hand controlled so you never have to leave the golf car.
If a course near you doesn't offer this convenience, you can buy your own and customize it to fit your unique needs and taste.
Tips on buying
Not every golf car is the same; look for one with tires that drive over rough terrain yet won't damage the greens so you can drive right up and putt from it.
You'll want a car seat that rotates to get the best swing from a seated position.
Look for one with a chair that also elevates for a better sitting shot or even to a standing position to allow you to get a great score.
Take a club with you and test a car out to see which one offers the best backswing, downswing and follow-through for you.
If you are worried about the rules of golf, they have been modified for those with disabilities. To see them, visit www.randa.org and look for "Golfers with Disabilities" under "The R&A" on the home page.
Disabled Sports USA at www.disabledsportsusa.org has many links and resources that may help.
To locate a PGA professional with experience in providing instruction to those with disabilities, visit Play Golf America at www.PlayGolfAmerica.com.
This mobility safety update has been brought to you by NMEDA – the National Mobility Equipment Dealers Association. Need some information on how to make your vehicle wheelchair accessible or upgraded with the latest and most convenient features? Contact a NMEDA dealer in your local area. Your local NMEDA member is an expert in mobility equipment and accessibility!
https://nmeda.org/wp-content/uploads/2017/07/feature-072717-d.jpg
335
600
nmeda
https://nmeda.org/wp-content/uploads/2020/06/nmeda-logo.png
nmeda
2017-07-28 16:50:07
2020-10-13 07:15:34
Yes, You CAN Play Golf