What's on Your Bucket List?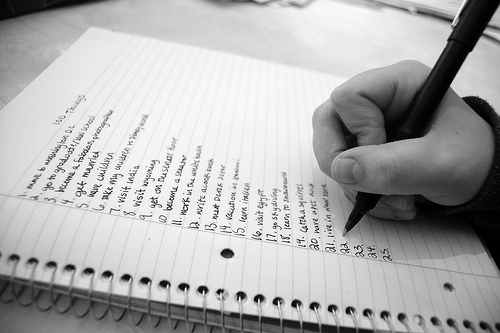 Updated: August 23, 2016
Used as a figure of speech these days, people make bucket lists because they're exciting and offer goals for everyday life. Some include getting in touch with your values, conquering fears, getting creative, enjoying life, and keeping track of peak experiences.
Bucket lists can be a way to experience things you normally would not do. A great example of someone who has already checked off many adventures out of their bucket list is travel blogger, John Morris. Through his wheelchair travel blog, Morris has been able to show that his disability cannot get in the way of his journey around the world. Like Morris, you can accomplish any goal you set for yourself on your bucket list. Here are some tips on creating your own.
Starting Your Own Bucket List
Pick your passions and remember anything goes. If you're at a loss, try some of our suggestions from the categories below:
Travel: Go on a road trip, see Niagara Falls or the Grand Canyon, go on a cruise, or visit another country.
Educational: Master a new language, take additional college courses, help with a charity, or join a mentor program or advocacy group.
Health: Learn meditation, spend one hour outside and away from electronics each day, or take up a wheelchair sport.
Entertainment: Drink wine in Napa, be on a game show, or visit a historical site.
Food: Drink straight from a coconut, make your own bread or pasta, or dine at renowned restaurant.
Regardless of the level of difficulty, accomplishing items on your bucket list gives you a sense of satisfaction, helps you make new friends and is just darned good fun. Bucket list allow us to be open with our vulnerabilities.
Outdoor Options
If an outdoor sport is on your list, the National Sports Center for the Disabled in Winter Park, CO is a well-known, outdoor therapeutic recreation agency offering spring, summer and fall programs.
Summer adventures include: rafting, sailing, canoeing, camping, rock climbing, therapeutic horse riding and more for individuals, families or groups. To make a reservation, call (303) 316-1518 or (970) 726-1518, or visit www.nscd.org.
The National Mobility Equipment Dealers Association (NMEDA) is an advocate for mobility and accessibility for drivers with disabilities. If you need help with converting or buying a handicap accessible car, truck or van, please consider one of our Quality Assurance Program mobility equipment dealers.
https://nmeda.org/wp-content/uploads/2011/06/Bucket-List.jpg
333
500
nmeda
https://nmeda.org/wp-content/uploads/2020/06/nmeda-logo.png
nmeda
2011-06-15 13:53:21
2011-06-15 13:53:21
What's on Your Bucket List?