Don't Try This at Home: Extreme Sports for Those with Disabilities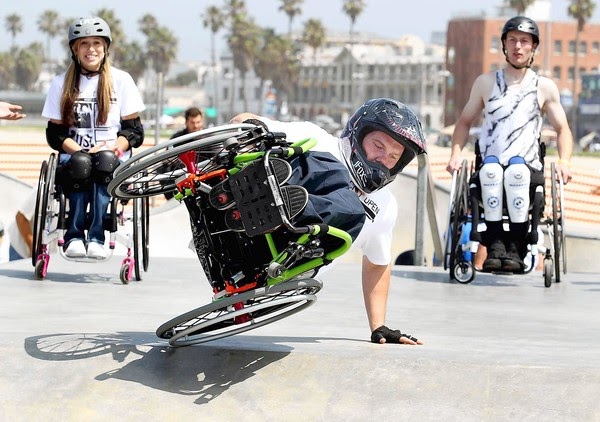 Sports for people with disabilities like basketball, rugby and soccer may seem a little tame for those of us with more of a need for speed and heart-pounding exhilaration. Check out these extreme sports. Some require custom wheelchairs (some can be rented) and are not for the faint of heart, and some are downright dangerous, so be forewarned.
Downhill 4-Cross Biking: Ascend a mountain via a chairlift or 4×4 vehicle, and then let gravity do most of the work on the way back down. Visit No Barriers USA at www.nobarriersusa.org for a variety of sports, including extreme sports.
SitSki: There are two different types of skis for people with disabilities. The mono-ski was developed for skiers with good upper body strength. The bi-ski is for individuals who might have multiple sclerosis, muscular dystrophy, cerebral palsy, spina bifida, spinal cord injuries, etc., who prefer to ski in a sitting position. Read all about it at www.sitski.com, which lists sites near you.
Three-track ski is for those with one good leg and two good arms, and the four-track ski for those two legs and arms, natural or prosthetic, and are capable of standing independently or with the aid of outriggers.
Wheelchair Skateboarding: Also known as "Hardcore Sitting," wheelchair skateboarding uses a manual wheelchair due to its lightweight material – and to gain momentum. Aaron Fotheringham, who was born with Spina Bifida, even did a backflip somersault in his wheelchair when he was 14 years old. At 18, he did a double back-flip.
To see Aaron's somersault, see the video at https://www.newdisability.com/videos.htm. Other videos there include wheelchair paragliding, murderball, wheelchair tennis, boxing, dancing, and more. Check out Aaron's own site at www.aaronfotheringham.com for even more amazing "tricks."
The National Mobility Equipment Dealers Association (NMEDA) is an advocate for mobility and accessibility for drivers with disabilities. If you need help with converting or buying a handicap accessible car, truck or van, please consider one of our mobility equipment dealers.
https://nmeda.org/wp-content/uploads/2011/08/extreme-disability-sports.jpg
0
0
nmeda
https://nmeda.org/wp-content/uploads/2020/06/nmeda-logo.png
nmeda
2011-08-25 12:51:59
2020-10-13 07:18:34
Don't Try This at Home: Extreme Sports for Those with Disabilities