Dead Battery? No Need to Open the Hood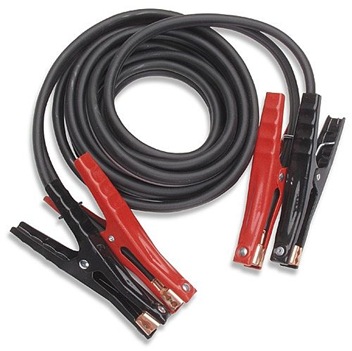 Dread that rattling noise the car makes when your battery has a hard time starting? You can get out the jumper cables, find someone with a car to help or call road service… or there are also other solutions. No cables required. No road service required.
We found 2 different kinds of cable-less jumper gadgets on the web, but there's dozens more.
The SelfCharge Auto Jumper (Approx. $45) eliminates the need for jumper cables, opening the hood, or even needing another car. When your battery needs a jump, simply plug the Auto Jumper into the car's cigarette lighter. It jump starts a weak battery in 10 minutes and can be recharged over 500 times.
Essentially a large battery, charge it using the included AC adapter (or by plugging it into your car's cigarette lighter while the car is running).
You can also recharge your cell phone, laptop or PDA with the adapter.
Wagan Easy Quick Jumper In-Car Jumpstarter (Approx. $25) requires a second car, but you don't have to open the hoods. Simply connect one end of the Easy Quick Jumper to the cigarette lighter of the "dead" car and plug the other end into the cigarette lighter of the other car while it's running. (It has an 18-foot cord.) Red indicator lights let you know it's charging. In 5 to 10 minutes the green light will come on and the battery is ready.
These gadgets work with all automobiles that have 12-volt electrical systems, the vast majority of cars. Check your owner's manual for its voltage. Look for them at automotive departments or online.
Of course, if your battery is truly dead, not just weak or run down, you'll need a new battery, not a jump. And since these are "gadgets," keep those jumper cables just in case.
This mobility safety update has been brought to you by NMEDA – the National Mobility Equipment Dealers Association. Need some information on how to make your vehicle wheelchair accessible or upgraded with the latest and most convenient features? Contact a NMEDA dealer in your local area. Your local NMEDA member is an expert in mobility equipment and accessibility!
https://nmeda.org/wp-content/uploads/2011/06/How-to-Jump-Start-a-Car-Battery_2.jpg
0
0
nmeda
https://nmeda.org/wp-content/uploads/2020/06/nmeda-logo.png
nmeda
2011-06-08 18:42:54
2011-06-08 18:42:54
Dead Battery? No Need to Open the Hood